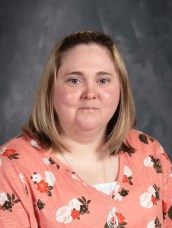 Ms. Maria Staus
Email: mstaus@ottervillervi.k12.mo.us
Phone: 660-366-4621 ext. 404

Degrees and Certifications:

Bachelor of Arts in Psychology
Master of Science in School Counseling
Hello Otterville Eagles!

I am super excited to be here at Otterville as the school counselor! I started in 2018 and I am so happy that I get to be a part of a caring and supportive school district. I grew up on a farm just south of Sedalia and graduated from Sacred Heart School in 2004. I then went on to the University of Missouri in Columbia where I received my Bachelor's degree in Psychology. I then took some time off to figure out what I wanted to do next. I eventually went back to school at the University of Central Missouri in Warrensburg where I graduated with my Master's degree in School Counseling. In my spare time, I like spending time with my fiancé, family, and friends, especially with my nephews and niece. I also like outdoor activities, watching sports, and reading.

As the school counselor, I am focused on the academic, career, and social/emotional development of every student. My job is to help students develop skills needed for educational achievement, engage in career exploration and plan career goals, and discover a sense of self. Through classroom guidance lessons, students will learn about character education: respect, responsibility, self-control, honesty, and positive attitude, academic success, and career exploration. I also assist high school students with their Individual Career and Academic Plan (originally called Personal Plan of Study) and with their post-secondary options whether it is college, technical school, military, or career. School counseling helps students understand and make the most of their own learning styles and also promotes a positive and safe learning environment.

If you have any questions or concerns, please contact me. I am here to help!

Juniors & Seniors -
The ACT is a standardized test that is required for admission to most colleges.
To register go to www.act.org.
The cost is $68 (no writing) and $93 (with writing). If you need help navigating the website or completing your registration, please see Ms. Staus.
Study materials can be found in the school counselor's office or go to www.act.org/academy for free online ACT test prep.

ACT test dates:

October 28, 2023 Register by September 22
December 9, 2023 Register by November 3

February 10, 2024 Register by January 5

April 13, 2024 Register by March 8

June 8, 2024 Register by May 3

July 13, 2024 Register by June 7
District Testing for the Fall is on Tuesday, October 17, 2023 at Otterville School with Ms. Staus. This is for any interested Junior or Senior.
District Testing for the Spring is on Tuesday, April 9, 2024. This is for all Sophomores and any interested Juniors and Seniors.
Need Money for College? Complete the FAFSA: Free Application for Federal Student Aid

Starting December 2023, all college-bound Senior students and their parents should go to https://studentaid.gov/h/apply-for-aid/fafsa to start filling out their FAFSA application. Some financial aid is awarded on a first-come, first-serve basis. Apply early!
You can fill out the FAFSA on a computer or mobile device. Filling out the FAFSA is free. Never pay a company or service to process your FAFSA. By completing the FAFSA, you are automatically applying for a Pell Grant (Free Money).

You must fill out a FAFSA to be able to receive the A+ Incentive!

FAFSA Checklist for students and parents:
First create your FSA ID login at https://studentaid.gov/fsa-id/create-account/launch

Social Security Number

Driver's License Number (If you have one)

Federal Income Tax Return, W-2s, and other records of money earned. The IRS Data Retrieval Tool can transfer your tax information into the FAFSA. If the "Link to IRS" button is available, click it.

Bank statements and records of investments

Information on untaxed income

List of schools being considered



It takes about an hour to complete the FAFSA online.
Missouri Priority Deadline is February 1. Be sure to check college deadlines as well.
Federal Priority Deadline is April 1.

Click on https://studentaid.gov/apply-for-aid/fafsa/filling-out or https://mofafsa.org/ for helpful information about filling out the FAFSA.
Click on the link below for a list of Missouri Higher Education Institutions:

SFCC Scholarships:
Go to the SFCC web page - sfccmo.edu
Click on Admissions & Financial Aid
Click on Ways to Pay For College
Click on Scholarships (on the left-hand side)
Click on View Scholarship Opportunities (in the middle of the page)
Applications will become available on November 15th and will be due on March 1st
mocollegecareer.org
moslf.org - Missouri Scholarship Foundation
masfap.org - Missouri Association of Student Financial Aid Personnel
Missouri Department of Higher Education & Workforce Development:
dhewd.mo.gov

Journey to College:
journeytocollege.mo.gov

Missouri Department of Elementary and Secondary Education:
dese.mo.gov

Missouri Department of Health & Senior Services
health.mo.gov

Careers:


Missouri Job Center – www.jobs.mo.gov Follow them on Facebook too!

Missouri Economic Research and Information Center (MERIC) – www.missourieconomy.org


State Fair Community College also offers Pre-Apprenticeship and Apprenticeship Programs – www.sfccmo.edu/apprenticeships.

MissouriHealthCareers.com

Missouri Hospital Association - www.mhanet.com
Missouri Career Connections
http://www.missouriconnections.org/
Missouri Association for College Admission Counseling - www.moacac.org
Central Missouri Community Action - https://cmca.us/
Missouri Association of Student Financial Aid Personnel (MASFAP)
National Suicide Prevention Lifeline 1-800-273-TALK (8255), http://www.suicidepreventionlifeline.org/, or Dial 988

Missouri Suicide Prevention Network: mospn.org, Burrell Central MO Crisis Line 800-395-2132, Text MOSAFE to 741741

Missouri School Violence Hotline 1-866-748-7047, https://www.schoolviolencehotline.com/

Missouri Child Abuse or Neglect Hotline 1-800-392-3738

Missouri Department of Social Services: dss.mo.gov

Missouri Department of Mental Health: dmh.mo.gov
Burrell Behavioral Health - Sedalia Clinic: 201 W. 3rd St. 660-827-2494
Burrell Behavioral Health - Boonville Clinic: 520 Ryan St. Ste. W 660-882-7573
You can also follow Burrell Behavioral Health on Facebook.
Useful Websites
High School Course Requirements
Eight semesters of high school attendance are strongly recommended for all students. Students must complete all required courses and have earned 24 units of credit.
English (4 units):
English I, English II, English III, English IV, Creative Writing, Short Stories, Science Fiction, Practical English
Dual Credit: English Composition I, English Composition II, Public Speaking
Mathematics (3 units):
Algebra I, Geometry, Algebra II, Algebra Support, Applied Math
Dual Credit: College Algebra, Statistics, Trigonometry
Social Studies (3 units):
American History, World History, Civics/American Government, Geography, Missouri History, Criminal Justice
Dual Credit: US History Before 1877, US History Since 1877, Psychology, Sociology
Science (3 units):
Physical Science, Biology, Environmental Science, Chemistry, Anatomy/Physiology, Earth and Space Science
Dual Credit: General Biology, Medical Terminology
Fine Art (1 unit):
Band, Chorus, Art I-III
Dual Credit: Music, Art, or Theatre Appreciation
Practical Art (1 unit):
Computer Apps, Multimedia, Business Tech, Computer Science, Business Leadership, Sports & Entertainment Management, Accounting, Intro to Business, Graphic Arts
FACS, Foods, Adulting 101, Child Development, Career & Family Leadership, Clothing, Housing & Design
Ag Science I & II, Ag Construction, Conservation, Plant Science, Ag Community & Leadership, Animal Science, Supervised Ag Experience
Physical Education (1 unit):
General P.E., Athletic Conditioning, Weight Lifting, Lifetime P.E.
Personal Finance (1/2 unit):
Personal Finance
Health (1/2 unit):
Health
Electives (7 units):
See Course Offerings
Dual Credit: Spanish I & II, Lifetime Wellness