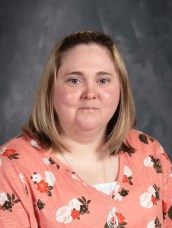 Ms. Maria Staus
Phone: 660-366-4621 ext. 404

Degrees and Certifications:

Bachelor of Arts in Psychology
Master of Science in School Counseling
Hello Otterville Eagles!

I am super excited to be here at Otterville as the school counselor! I started in 2018 and I am so happy that I get to be a part of a caring and supportive school district. I grew up on a farm just south of Sedalia and graduated from Sacred Heart School in 2004. I then went on to the University of Missouri in Columbia where I received my Bachelor's degree in Psychology. I then took some time off to figure out what I wanted to do next. I eventually went back to school at the University of Central Missouri in Warrensburg where I graduated with my Master's degree in School Counseling. In my spare time, I like to read, go shopping, watch the Kansas City Royals, and spend time with my family, especially with my nephews and new niece.

As the school counselor, I am focused on the academic, career, and social/emotional development of every student. My job is to help students develop skills needed for educational achievement, engage in career exploration and plan career goals, and discover a sense of self. Through classroom guidance lessons, students will learn about character education: respect, responsibility, self-control, honesty, and positive attitude, academic success, and career exploration. I also assist high school students with their Individual Career and Academic Plan (originally called Personal Plan of Study) and with their post-secondary options whether it is college, technical school, military, or career. School counseling helps students understand and make the most of their own learning styles and also promotes a positive and safe learning environment.

If you have any questions or concerns, please contact me. I am here to help!